Last Saturday SHG had the pleasure to attend a very nice meet in downtown Boston, MA hosted by the MassTuning group. With an attendance of 500+ the meet was a great success and gathered enthusiasts from all over New England. I'm talking 4 floors packed to the brim with everything from Honda to Lamborghini! The weather a bit chili but nonetheless a great time!
As you can see the venue was nothing short of stunning and we were lucky to secure top floor spots.
Evan was able to put his EP3 back together just in time for the meet after having hibernated all winter long for some new additions. The new spec is composed of a DC5 hydraulic power steering system conversion, improved interior sound deadening paired with an OEM DC5 Bose Premium System subwoofer, SHG rear roll center adjusters, Todd's adjustable top hats, custom rear spherical arms, SHG valve cover and more.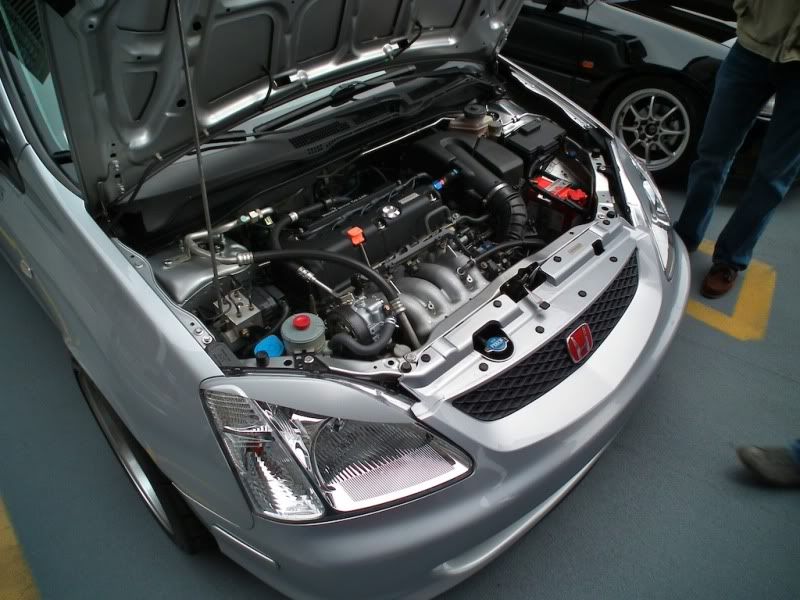 Gotta love how factory looking this bay appears to the untrained eye, well done!
Having only slept 4 hours Thursday night and pulling an all nighter Friday meant that Evan was limping to stay awake but in the end it was all worth it since he was able to get it done. Poor Easy!
Here I am on the right showing my friends my latest acquisition, Buddy Club N+ coilovers and both Buddy Club front and rear camber kits. I can't wait to throw them on in a few months!
As for my EH3, its getting there little by little. Just planning on getting my bodywork sorted and suspension refreshed for this year along with ironing out some miscellaneous bugs.
Mike has also been at work improving his Mugen Si. He recently added K-Mac camber/caster plates and 25mm spacers in the front and is enjoying the revamped handling.
SHG in the front, SHG in the back!
Big ups to Eddie for hooking us up with some premium spots but then again, our timing was just right!
If you would like to see more pictures from the event, be sure to check out this
link
.
Finally, shout outs to
Eddie Guerrero
,
Joshua Hanley
,
Andrew Pascarella
,
Andrew San
and
Matt Gaumont
for the pictures as well as all of the organizers that helped get this meet together!
Thank you from SHG!